As a newly engaged Bride-to-be, the prospect of finding something to look and feel beautiful in, as well as coming into the spotlight in front of a hundred or so people, can be a daunting prospect to say the least. Dress shopping is hard for any Bride, and if you are a Bride or the large side, chances are that you will find it even more frustrating and deflating. Don't despair – we are here to help!

Being a "Big Girl" has a few disadvantages when shopping for regular clothes  – it is a juggle between finding a style you feel confident in and flatters your figure, finding it in your size, and finding the shops to begin with. It is exactly the same when shopping for your wedding dress, only this situation is even more emotionally charged.
Some shops might not be able to accommodate you, and that certainly feels rubbish. It can definitely turn up the Bridal anxiety levels a few degrees.
As well as reading up on the standard wedding dress shopping hints and tricks here, here, here and here, if you have a fuller figure there are some additional empowering dress truths that you should take into consideration, so please carry on reading!
First of all: don't think that you have to wear certain silhouettes just because of your body contour. You can wear anything you want! Whatever you feel hot and beautiful in, is what you should wear.
There is a amazing dress out there for you, so stay positive and you will soon find it.
Note from Author: It was hard to source the right pictures for this spread, because when you search online for plus size wedding dresses, what you find is normal size 12-14 ladies. I can only imagine this feeling quite humiliating, if you are a "real" plus size bride.
Practicalities
Allow yourself lots of time when looking for your dress. Ideally start a year before your wedding date. This will calm the process down and you can shop around and be discerning about your dress choice without panicking.
To begin with, find out where the plus size dresses are available. The established and well-known Bridal houses usually stock sample dresses in larger sizes – so go there first as it is rather important to try the dress on before you make your decision. Smaller boutiques should be able to custom make one, but their samples usually only come in sizes up to 12, so unfortunately they might not be able to let you try anything – which is the whole point of the trial, isn't it.
If you are lucky, you might find a speciality plus size bridal salon. It could even be worth travelling a bit to find one, as they will be able to welcome you without judgment, have all the dresses in your size, and accommodate you in the special way you deserve.
When you contact the salons to make a booking, you can request to be seen by a consultant who is already experienced with handling plus size clients. Their professionalism should help to put you at ease, making this a smooth and happy experience.
If they are doing their job really well, they would prepare by picking out all the dresses in your size, and hanging them by the fitting room in advance. Time will be saved and awkward rummaging through dresses that are not going to fit will be spared from you.
Be advised that wedding dress consultants have a way of making dresses fit in the dressing room, with clever clips with elastic straps. You might have to walk out with an undone back to show your guests, but that happens for many regular sized Brides too.
If you struggle to find your dream dress, custom design is a great option – you will need to sit tight for a while if you haven't been able to actually try the dress before you buy it – which can be nerve-wrecking – but choosing the design 100% yourself is also rewarding.
Factor in extra costs of fabric and pattern cutting in your budget, should you decide to buy a custom size, as designers usually charge more for bigger sizes that require more material.
Never buy a dress that doesn't fit you, no matter how much weight you are going to  loose. It would be extremely stressful if you didn't have time to go to the gym as much as you intend to, and you might end up without a wedding dress. A dress can always be taken in, but it is harder to make it bigger.
Buy a dress which is comfortable today, then deal with the adjustments at a fitting nearer your Big Day.
This is a reason why the corset dress is your friend!
2. Dresses – the silhouettes
Dressing to your shape is vital for every bride. Remember it is not you that has to be right for the dress – it is the dress that must be right for you. There is a big difference!
Many dress guides that Ive read suggest an empire gown if you are curvy. An empire is fitted under the bust, and then flares, so the fabric is loose from your upper torso which might sound great if you want to disguise parts of your body.
To me, that is only partly true.
If you are large, yes the empire will compact your torso and hide your body. But why hide? If you happen to be an apple shape (shoulder and hips in proportion) the empire might make you look "boxy". Empires are cute, especially if you are petite, don't get me wrong here – but don't feel confined to get married in a box just because you are plus size.
Believe it or not – a fitted dress might actually make you slimmer!
The sheath silhouette is potentially unflattering as it flows along your body straight down, but  – with the right fabric, sleeves and neckline – anything is possible.
The A-line gown is great for all shapes, and is magic in the sense that it creates a waist and gives you feminine curves. Perfect for pear shapes (hips wider that shoulders) and it makes the waist look small.
For the same reasons, the ball gown can be awesome if you are craving the princess experience. If you have broad shoulders, a large skirt will balance the proportions, making your torso seem more petite.
If you have curves, don't be afraid of showing them off, even as a larger lady.
A drop waist is super feminine as is expands from the hips and will make you look tall and slender.
The trumpet/ fit and flare gown that skims the body and flares from the mid thighs, is very flattering if you got curves. A softly curved expansion is the most favoured for its elongating benefits.
Even a tight fitting mermaid can be amazing, especially with more volume on the skirt.
I have to add to this: Finding your Dream Dress is not all about choosing what is "flattering" or "slimming". Only you can be the judge of what is right for you. If your aunt says a certain dress is unflattering but you love being in it, or if something supposedly fits you right even if you don't like something about the design – be brave and speak up! This is your precious garment and moment – to hell with "suitable" if that particular design doesn't resonate with you.
Never settle on a gown that isn't your dream gown, just because you feel confined to it. The next place might have your dress, or the next – keep searching until you find it.
3. Fabrics
The most beautifying fabrics will be the denser ones, such as thicker dull satins such as duchess, or scuba and taffeta, that will give structure to the dress and a smooth appearance. Tulle and organza are wonderful fabrics for any bride who want a soft, ethereal dress vibe.
If you want flowy, try lined georgette which is heavier than chiffon.
Very sleek materials such as silk chiffon and silk charmeuse can be clingy to your skin, which could seem unforgiving.
Ive read some plus size guide that advised that Brides stay away from shiny fabrics and too much bling. I don't agree with this – strategically draped fabric and the right placements of crystals can draw attention to the right areas of your body, making you utterly gorgeous.
4. Necklines and sleeves
It might seem like a safe bet to hide your arms in a long sleeve. But just be advised that the sleeve can make arms seem bigger as the bright fabric reflects light off the area.
The popular strapless look could be amazing if you find the right support, and a pretty neckline. However, going strapless could make you feel a bit unstable in the bust area, and you also don't want to be seen pulling up your dress all night. Also aim to prevent the upper chest "wobble" – easy to achieve with a wider strap.
The best compromise is opting for a bodice which will hold your bust and enable you to embrace guests and dance all night confidently.
If you insist on the open look that a strapless gown provides, consider a halter strap that gives you the best of both worlds.
To seem narrower across the chest, you can choose a sweetheart neckline or a v-neck, as opposed to a straight neckline. The dip in the cleavage is complementing to your figure, whatever your bust size.
If you have a heavy bust, straps will make you feel more supported and confident.
Cap sleeves are wonderful for a larger bust and will draw attention to the shoulders, making the bust and waist appear smaller.
5. Slimming design tricks
There are styles for all brides, and there are many hacks to make the dress look and feel great on you.
Rouching is a clever invention. You will discover that the texture and lines it creates draws away attention from any imperfections.
To create a line away from the hips, making you appear more slender,  asymmetric draping diagonally from the waist draws the eye in a vertical line across your body.
Wearing a belt accentuates your mid body and trims the waist. Wearing the belt just slightly higher that your waist will make your torso more petite. A wider belt will make your whole upper body appear smaller.
A dress with a corset back will give you support and extra poise, and is a more reliable fit. You will probably find that the corset will give your body great definition as it will hug in the right places.
Strategically placed embellishments also creates focal points that catches the eyes attention.
Lace appliqué and beading is also fantastic for creating texture, interest, and of course the desirable Bridal glam.
6. Fit
When you found the dress, here is how to make it fit perfectly:
Always buy the dress that fits the biggest part of your body, then take it in where needed. For example, your chest is 22 but hips are 16 – buy the size 22 dress and the seamstress will make it fit perfectly everywhere.
The power of boning, cups, straps and the right undergarments are not to be underestimated. An underskirt or a hoop will make the skirt flow away from your body and make the upper body seem more slender.
Invest in shape wear and wear it to your dress trials, as it will transform the look from underneath.
The right bra is crucial, but if you wear a corset dress you might not need one. Every dress is different of course, but having a comfortable and supportive bra when you start shopping is a great place to begin.
7. Dress confidence
Arrive to the salon feeling awesome. Avoid alcohol and bloating foods the day before. Drink water and don't get into a fret. Be kind to your body and nurture yourself. This way you can arrive to your dress appointment feeling cool and excited, not an unhappy wreck.
What areas of your body are you proud of? Show them off! Discuss with your consultant so she can help you find a dress that highlights your best features.
If you don't like what you are seeing in the mirror, get into the next dress immediately before you have time to pick faults. Whatever the case, avoid self-loathing and blaming. You are the Queen today! You will feel amazing when the dress is right for you. Be patient and steady until that moment arrives.
On the other hand, don't be afraid to adore what you are seeing in the mirror. You deserve this!
8. At your appointment
Chat to your consultant about your wishes, and also your concerns. If she is doing her job right she will soon put your mind at ease.
Trust the process. You might not think that you will look any good in that dress on the hanger. But once on you, it might be not what you think. Always keep an open mind.
Wear the wedding shoes (or same height shoes) to get a sense of the fall of the dress.
Wear a similar makeup look and hairdo to what you plan for the big day – it will help you visualize the final look, and feel great about your self.
If you start to feel frustrated, overwhelmed, anxious or any other distress – remember that your groom loves you, and you are getting married to the man of your dreams. That is all that matters, in the end of the day. He would marry you even if you walked down the aisle wrapped in a toga!
(That shouldn't stop you from being assertive when it comes to your dress, and voicing your opinion at your appointment though)
For dress shopping endurance, it really helps to have some water and a wholesome snack with you. Don't arrive starving hungry, but also don't come stuffed.
Some salons offer champagne, which is wonderful, but don't have more than one glass or you might come out of there with a dress you regret.
Some days are just not the day – for any Bride. Come back another time when you are rested and with a clear head.
Don't let your entourage control the appointment. They are there to support, not decide for you. Ask them to take a back seat and not pull so many impossible dresses. Likewise, if your consultant runs the show too much or bosses you around, do what you need to take back control, because your dress time is precious.
Some plus size Brides have reported feeling discriminated and not taken seriously at wedding dress salons. This is unacceptable and disgusting!
If you get the slightest inclination of this at your appointment, ask to speak to the manager, and ask for your money back if you paid for the appointment. Walk out the door and find a friendlier place that deserves your business, and don't hesitate to shame and blame the salon publicly and online.
9. Almost there…
Please don not submit to a Big Bride stereotype by shopping according to all the do's and don'ts there are in the world of plus size weddings.
(I e, if you are about to purchase that asymmetrically  draped A-line with flattering ruched sweetheart neckline with queen ann straps, because that is what that clever online curvy bride article suggested, stop yourself and ask: is this what I envisioned myself in?)
Choose a dress that reflects your fashion style and goes with your personality. If you wan't to be a sexy bride, be a sexy bride. If you want to go boho, go boho. If you wan't to wear a pink floral dress with a cathedral tulle train, then do! No need to be ashamed for anything on your wedding day. This is your show – so be your amazing self!
Have as much fun as possible. Getting married is a significant, memorable and joyous time, so enjoy it even if everything isn't 100% perfect. (Nothing rarely is by the way) Allow yourself to have the time of your life even if you wear a plus size dress. Some things are relevant to your wedding and some are not – such as your size.
Dare to feel beautiful just how you are. There is so much joy surrounding your wedding day, so immerse yourself in it and absorb every bit of happiness you can.
Go girl!
10. Some AMAZING plus-size dress designers:
(personal opinion & not sponsored links)
Exclusively stocks plus size wedding dresses – 76 different styles

CHOSEN Curve Collection by One day Bridal
Unique wedding dresses – best for boho and beach brides 
Maggie Sottero Curve Collection Look Book
Stylish and romantic designs with great fit
Mostly regular sized models have been photographed, but dresses are available in large sizes.
Classic bridal gowns for the traditional bride
Julietta Collection from Mori Lee
Classic designs for all budgets
Best for budget and large range of designers. Stocks plus size Bridesmaids dresses and Mother of the bride/ groom too.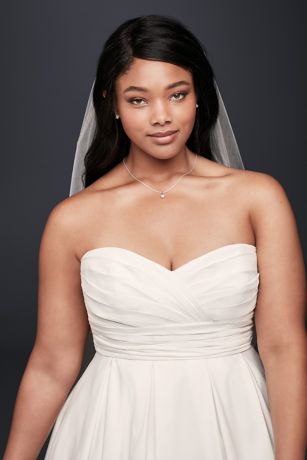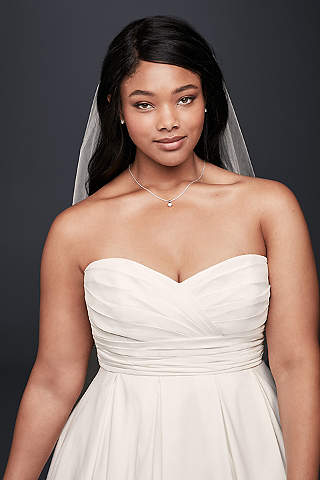 Huge variety of styles
Image sources:
wedding dress plus size // weddingomania   //  christines bridal // popsugar   // lily's bridal // pretty pear bride // callista bridal // hayley savage photography
Did you find these tips useful? How is your own wedding dress hunt going? Please share your experiences by leaving a comment below.
Stay tuned for next inspirational post by following us – find button in the sidebar to the right >>>>>
If you love wedding dresses or is busy finding yours, don't miss out on these articles:
What Wedding Dress Color will Suit My Skin Tone?
54 Celebrity Worthy Wedding Dresses Inspired by Alicia Vikander
Essential Things You Must Know Before Your First Wedding Dress Appointment
The Ballgown : Feel the Power of the Pouf